Safety, Convenience and Choice: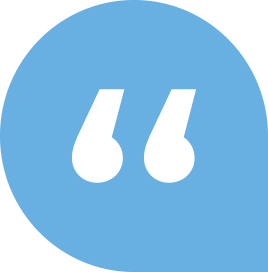 Payments are the lifeblood of the European economy
This quote by the European Commission (1) highlights the importance of payments for our society and their fundamental contribution to enabling a dynamic and inclusive European economy.
At their core, payments are transfers of funds. Yet, when we talk about digital payments, they do much more. They establish reliable links among countless consumers, merchants, businesses and governments, around the world, and every single day. They make transfers faster, easier, and safer thanks to leading-edge technology, delivered by a state-of-the-art industry. Drawing from new research and data collated and commissioned by Payments Europe, this report provides insights into how the European payments landscape has evolved over past years and how it is expected to develop in the future.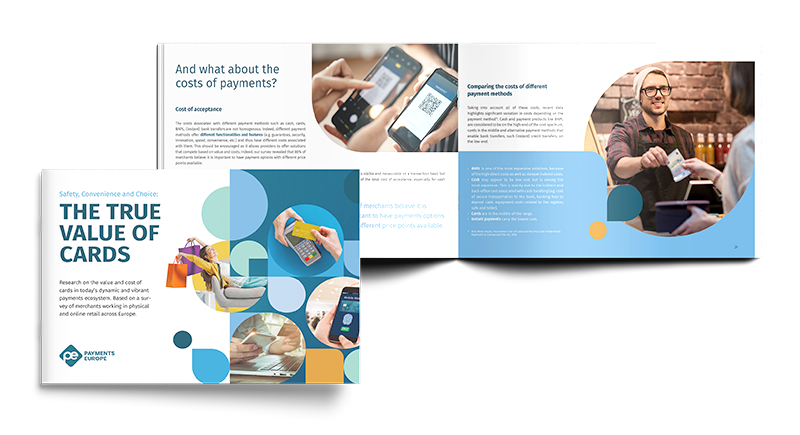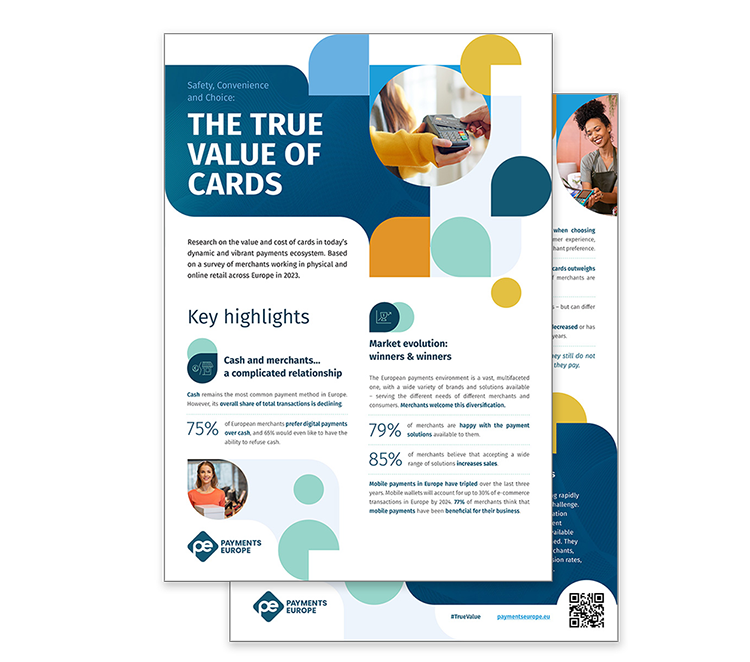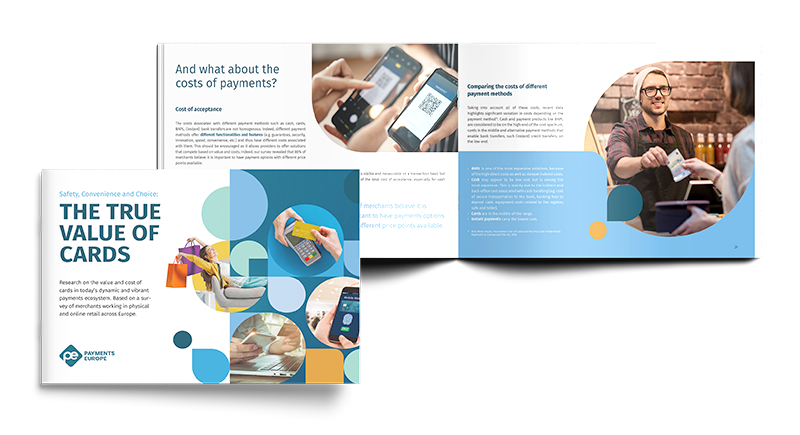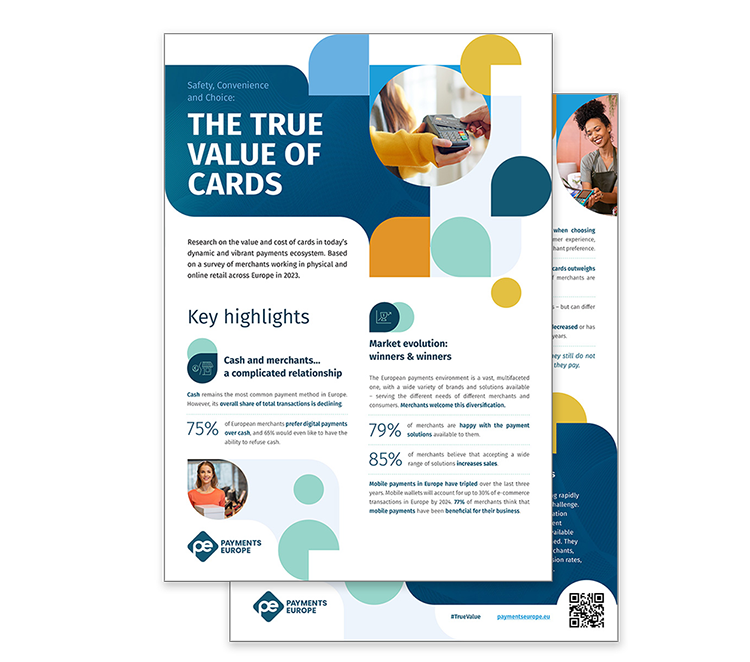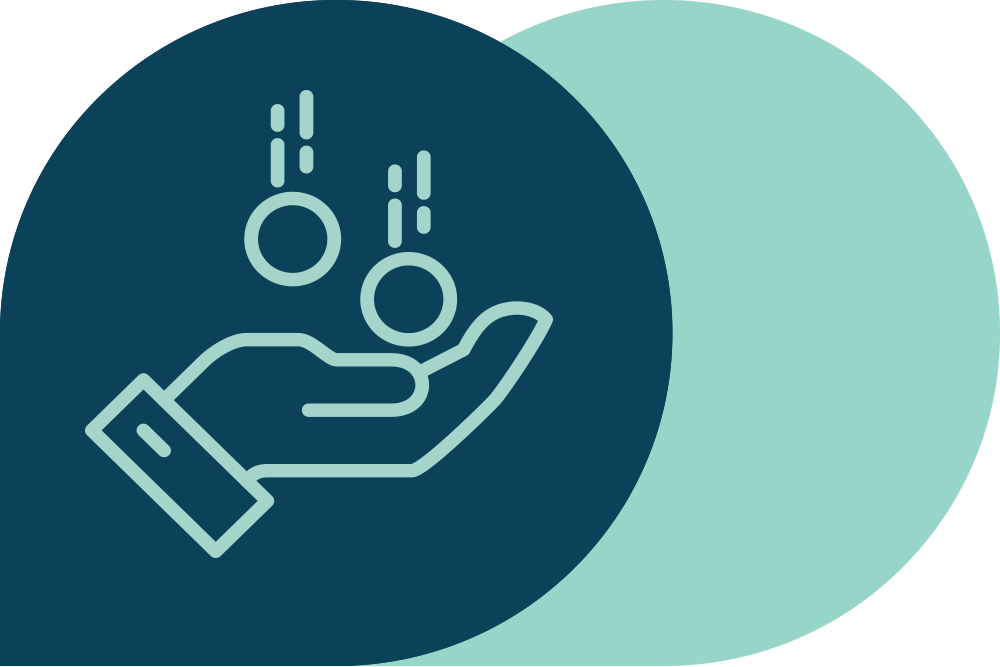 Cash and merchants… a complicated relationship
Cash remains the most common payment method in Europe. However, its overall share of total transactions is declining.
75% of European merchants prefer digital payments over cash, and 65% would even like to have the ability to refuse cash.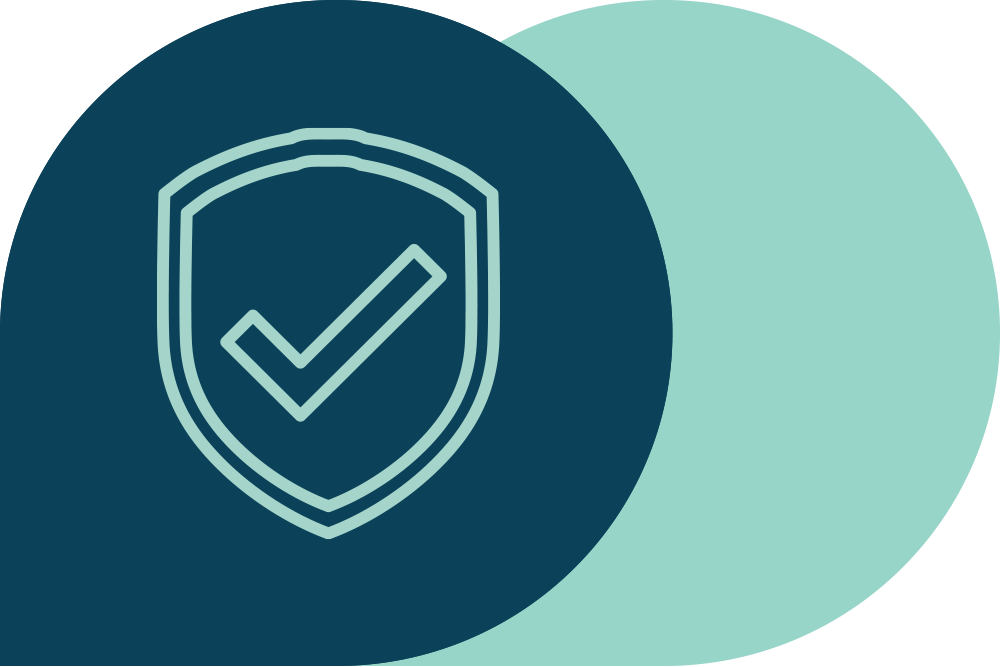 What merchants really want
Safety & security are the main priorities for merchants when choosing payment methods, followed by customer preference, reach, merchant convenience and cost.
72% of merchants prefer to accept cards over other payment methods.
Merchants value cards because of:
guaranteed payment
high security
a better purchase experience.
Bank transfers, including instant, are behind relative to other payment methods, though they are gaining popularity in countries where popular instant payment brands exist, such as in Poland and Sweden.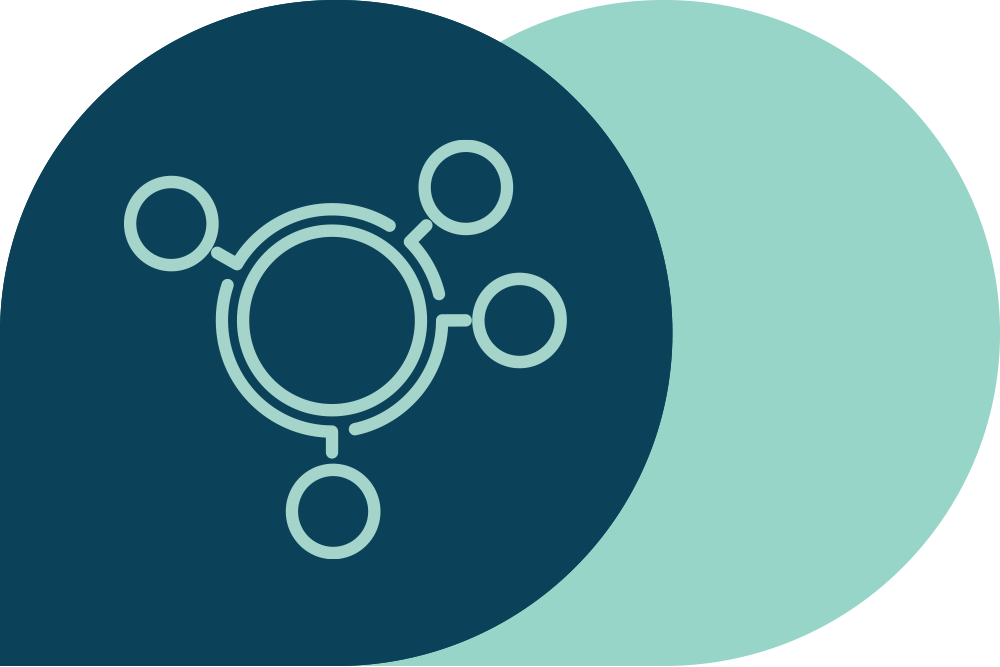 Balanced payments strategies
Developing an all-encompassing payments acceptance strategy is critical for merchants – especially small merchants – to drive revenue and reduce cost.
While managing transaction costs is important, other elements such as high approval rates, safety, fraud protection, and an attractive customer journey are even more important.
When asked about their payments acceptance strategy, security, and cost reduction are in the lead, while "increasing conversion rates", which can significantly drive sales, is only a focus point for 20% of merchants.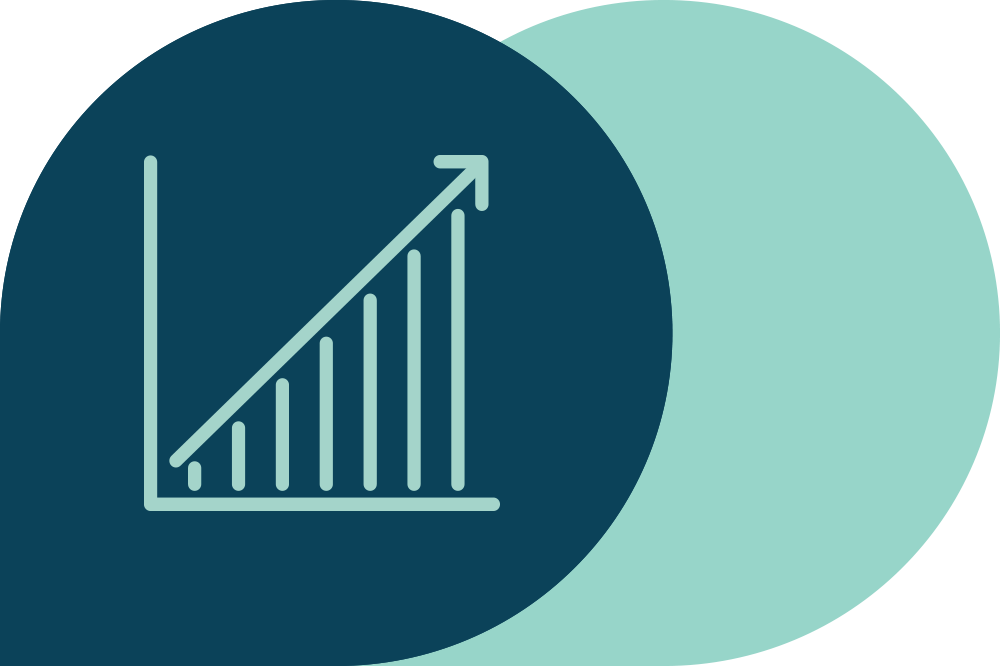 Market evolution: winners & winners
The European payments environment is a vast, multifaceted one, with a wide variety of brands and solutions available – serving the different needs of different merchants and consumers. Merchants welcome this diversification.
79% of merchants are happy with the payment solutions available to them.
In particular, merchants are overwhelmingly positive in Italy, Spain and Poland, where cash has traditionally been perceived as the preferred payment method.
85% of merchants believe that accepting a wide range of solutions increases sales.
Mobile payments in Europe have tripled over the last three years. Mobile wallets will account for up to 30% of e-commerce transactions in Europe by 2024. 77% of merchants think that mobile payments have been beneficial for their business.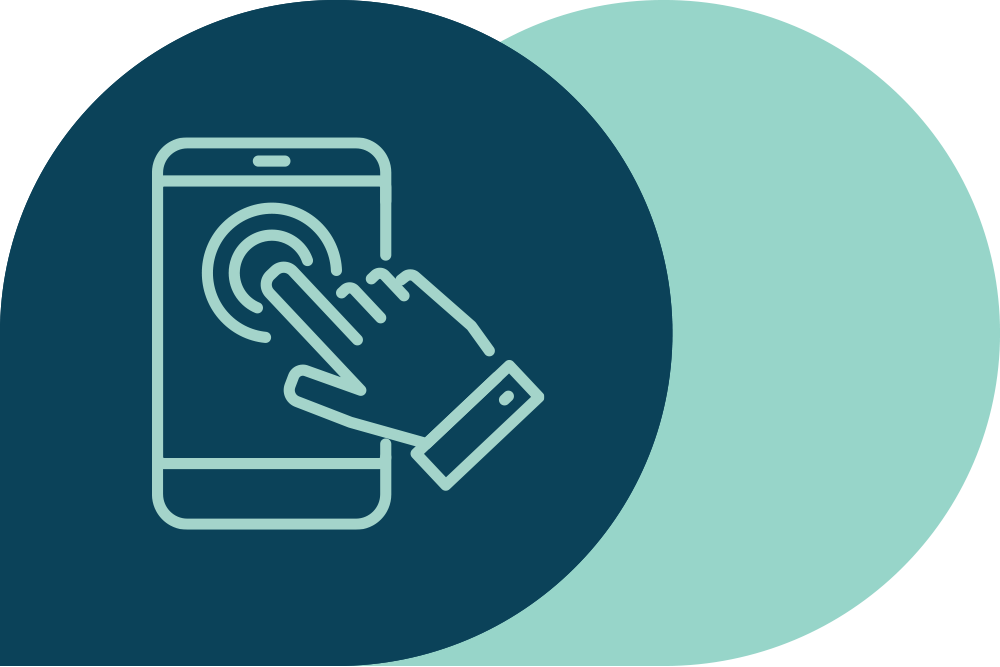 Card payments: cost and value
Cost is not the most important variable when choosing between payment methods. Security, customer experience, reach and convenience are key drivers of merchant preference.
87% of merchants said the value of cards outweighs the cost. The vast majority of merchants are satisfied with the fees they pay for cards.
Card fees have remained stable over the years – but can significantly differ between transaction and merchant type. About 67% of merchants say the cost has decreased or has remained the same in the last years.
1 out of 4 merchants unfortunately indicate they still do not understand the fees that they pay.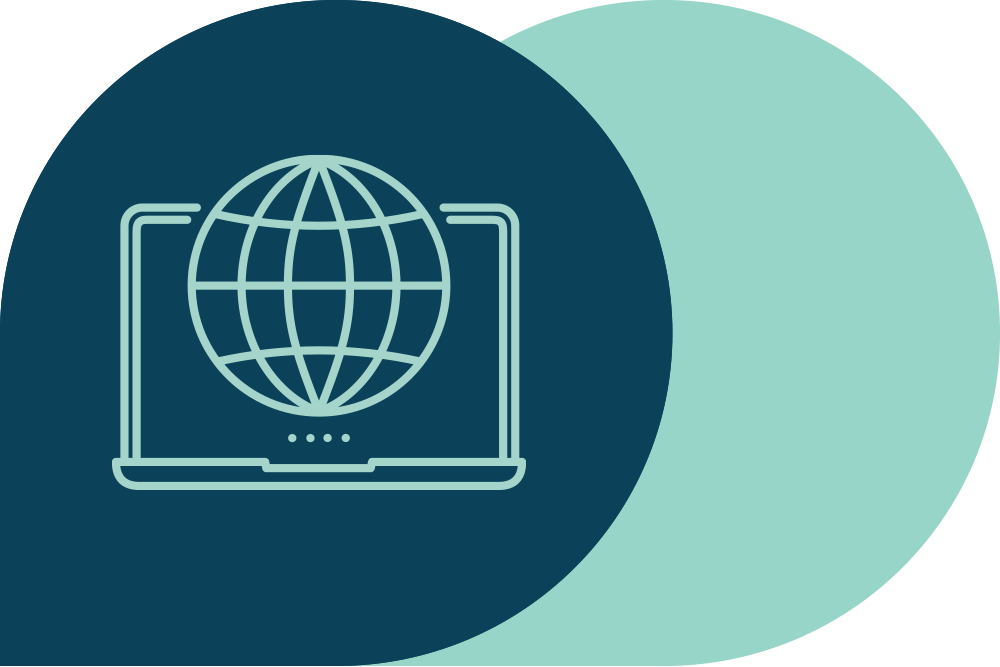 The payments ecosystem is evolving rapidly and staying up to speed can be a challenge. Initiatives aimed at sharing information and raising awareness of the different payment methods and networks available for merchants should be championed. They are key to further empowering merchants, increasing sales, improving conversion rates, and broadening the customer base.
A look back at The Future of Payments:
On October 12th Payments Europe launched its latest research on payments preference across Europe. We surveyed 1,560 merchants in Europe and the report looks at how the payments landscape is evolving, how competition and costs are affecting payment acceptance, and what factors truly drive merchant preference. Jimmie Franklin from Vixio Regulatory Intelligence moderated the discussion. Speakers included: Marcel Haag (Director, Horizontal Policies DG FISMA, European Commission), Vicky Lloyd (Legal Director, Regulatory Affairs, International, WEX), MEP Jonás Fernández (Member of the European Parliament), Francesco Piersante (Financial Services Attaché, Permanent Representation of Italy to the EU) , and Marta Testagrossa (Head of Payments Policy, Payments Europe). Click here to see a full recording of the event.
"Safety, Convenience and Choice: The True Value of Cards"
is a report on the value and cost of cards in today's dynamic and vibrant payments ecosystem, based on a survey of merchants working in physical and online retail across Europe.
The payments market in Europe is varied, with numerous different choices, various brands and solutions available. Playing a pioneering role in retail digital payments, cards have historically held significant importance by bringing advancements like contactless and tokenized payment methods. The realm of card payments goes beyond the familiar plastic card, encompassing diverse options including plastic and virtual versions, integrated into mobile devices or watches, allowing their utilization online or at physical points of sale. Whatever form they take, research by Payments Europe shows that card payments retain their position as the most secure, convenient, and preferred payment choice for both consumers and merchants.
In today's highly connected world, people and businesses want payments that are safe and easy no matter where they are. However, due to their critical role, they often get targeted by criminal behaviour and other bad actors. This means that the payments industry is called upon to constantly invest, innovate, protect and maintain resilience across the entire ecosystem.
Drawing from new research and data compiled and initiated by Payments Europe, this report offers a glimpse into the transformation of the European payments environment over recent years, along with projections for its future. The report delves into the growing competition in payment offerings across Europe, the significance of card payments in the eyes of consumers and merchants, and the assessment of their value compared to the expenses linked with them. It is informed not only by prior research but also by a new survey of merchants carried out in 2023*. Download the full report to get all the insights.
This report is based on a survey commissioned by Payments Europe and conducted by FTI Consulting in May 2023. The survey was completed by 1560 merchants working in physical and online retail in France (264), Germany (252), Italy (263), Spain (271), Sweden (242) and Poland (268). This survey was also conducted in 2021, 9th to 15th July with 648 merchants working in retail. Breakdown by country: France (109), Germany (110), Italy (110), Spain (110), Sweden (106) and Poland (103). Both 2021 and 2023 results have been compared where relevant. For both studies, the countries were weighted to ensure an even representation. Company size in-country was also closely examined to enable comparisons. The report was further completed with desk research based on publicly available sources, from the public and private sector.